Slim + Tone TeaTox is an all-natural, non-laxative tea blend with carefully selected ingredients that may assist you with your health and fitness goals.
Gluten Free
Naturally Flavoured
Naturally Sweetened
No Preservatives
Non GMO
Vegan Friendly

Slim + Tone TeaTox is an all-natural, non-laxative tea blend with carefully selected ingredients that may assist you with your health and fitness goals.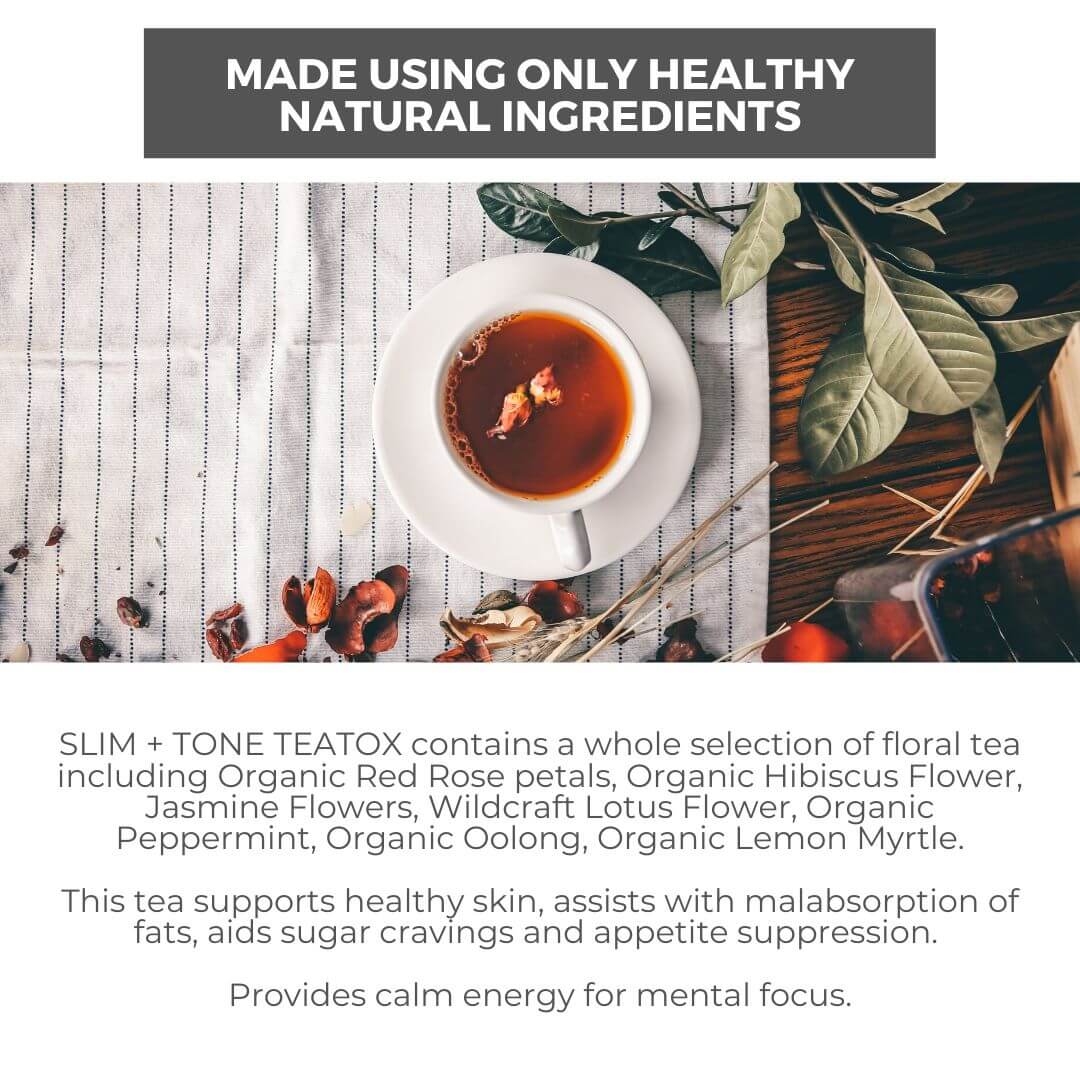 So, what's it taste like?
It tastes like…a floral tea! With incredibly delicious selected ingredients such as hibisicus, jasmine and rose petals. Our TeaTox can be enjoyed hot or cold making it the perfect addition to your diet all year long!
What SLIM + TONE TEATOX may do for you (yes, we must say "may" because we would be highly sceptical of anyone who will guarantee you results without knowing your exact personal circumstances in extreme detail!):
Assist with gradual weightloss (if you don't want it, let's get rid of it!)💪

Help you promote healthy skin 🌸
Increase energy (maybe she's born with it, maybe it's Slim + Tone!) 🏋️‍♀️
Fight fatigue (goodbye 3pm crash!) 🧠
Help control appetite and cravings (avoid that hangry feeling!) 🍽
Provide your body with antioxidants which may help your cells fight against and recover from oxidative stress 🌿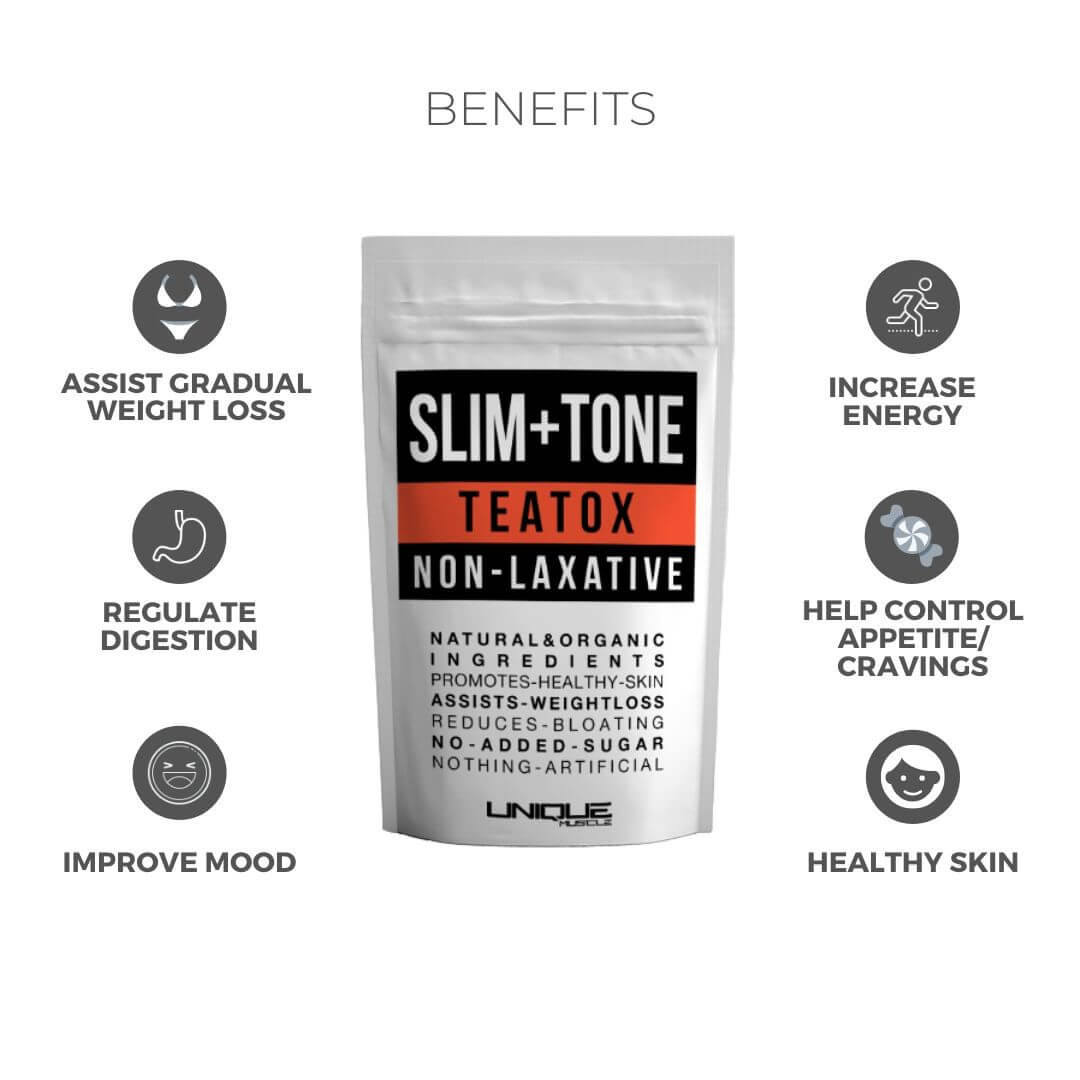 PLEASE NOTE:

If you're considering the use of any kind of detox aid, make sure to consult your doctor. People with certain health conditions (such as anemia, diabetes, low blood pressure and kidney disease) should either avoid detox diets or perform detox only under the supervision of a health care provider.
If you're pregnant or breastfeeding, please do not consume this product without consulting your doctor first.

Get the UNICORN TEA INFUSER for FREE when purchasing a SLIM + TONE Teatox - NO CODE NECESSARY - WE WILL ADD THE INFUSER TO YOUR ORDER!
SERVES PER PACK:
Our 15 day pack contains 50g of our loose leaf tea blend.
Our 30 day pack contains 2 x 50g packs of our loose leaf tea blend.

Still a little sceptical? Read the reviews from REAL and VERIFIED customers below!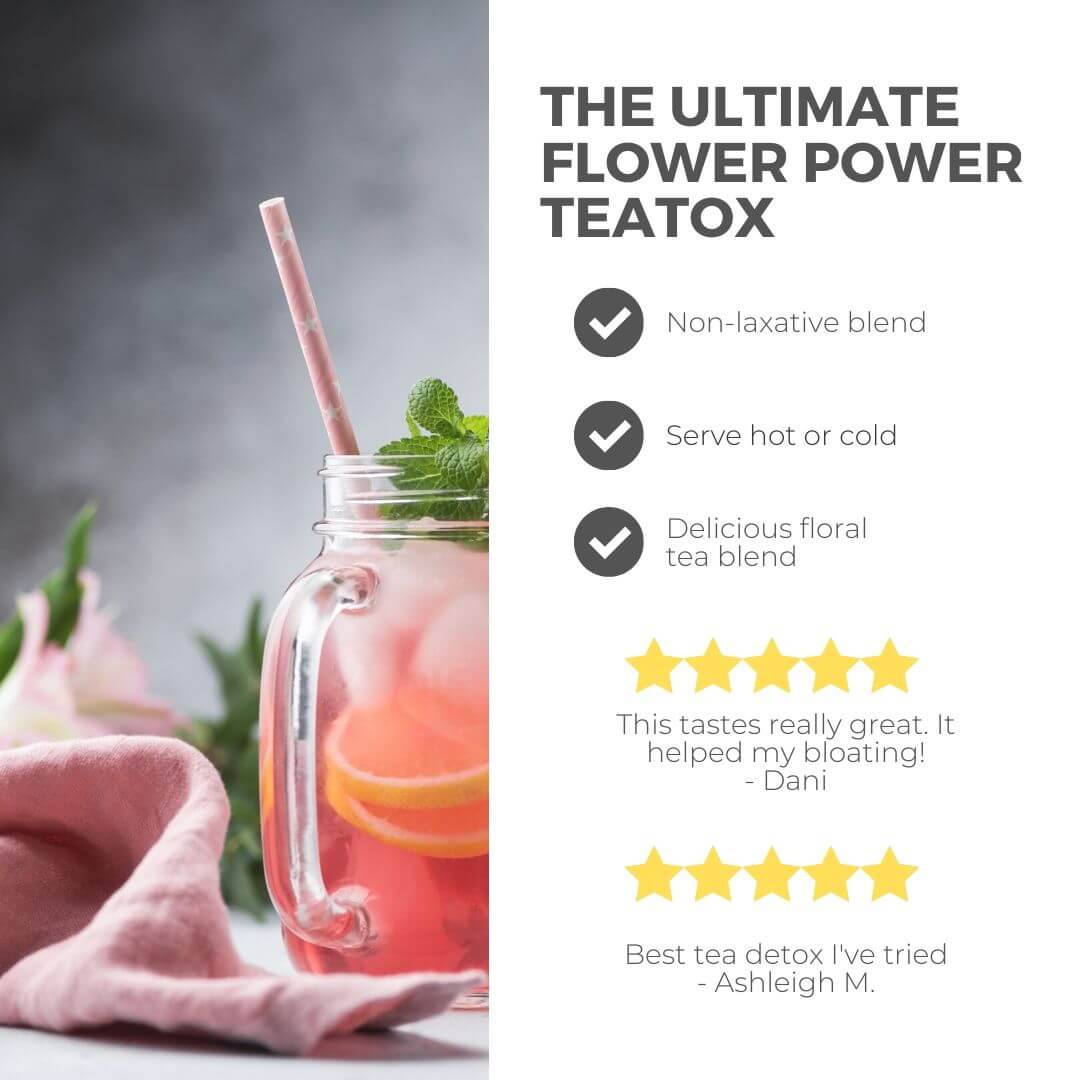 DIRECTIONS FOR USE:
Place 2 teaspoons of our TeaTox blend in your tea strainer and allow tea to infuse in a cup of hot water for 5-7 minutes. Our TeaTox can be enjoyed hot or cold.
Drink this whenever you want to curb those cravings. Add a natural sweetener such as stevia, xylitol or maple. Can be consumed hot or cold.
Recommended serving is one cup (2 teaspoons) up to 3 times per day.
Try these delicious recipes with SLIM + TONE:
2 WAYS TO ENJOY AN ICY CHILLED DELICIOUS TEATOX
For more tips and meal ideas, download our FREE 12 WEEK LEAN UP Healthy Eating Guide!
Click here to download



INGREDIENTS:
Organic Red Rose petals, Organic Hibiscus Flower, Jasmine Flowers, Wildcrafted Lotus flower, Organic Peppermint, Organic Oolong, Organic Lemon myrtle, Blue Malva flowers, Organic Garcinia. This product contains no added sugar or artificial sweeteners! - WE SOURCE THE BEST INGREDIENTS FROM AROUND THE WORLD!
The liver gets a bit of beating with most people's lifestyles. From the toxins we put on our skin, what we breathe in and what we eat and drink, I always recommend that my naturopathic clients do a detox, just to let the body reset and heal. The body can do a great job on its own but adding some supporting to herbs to it is always my go to for detoxes. Unique Muscle's Teatox has a combination of some great herbs. Peppermint has been used for hundreds of years may help to sooth the gut, hibiscus has been used to help heal the liver and Blue Malva flowers have been used to help soothe the gut. Rose petals is also beautiful addition as it's an emotional herb leaving you feeling more uplifted and comforted.
- Andrea Eastley is a Clinical Nutritionist, Clinical Naturopath and Western Herbal practitioner
Shipping Policy
At Unique Muscle, we not only strive to supply the best products in the marketplace but we also strive to ensure that your order reaches you as quickly and efficiently as possible. Our easy online purchasing system ensures your order is delivered to us instantly so we can then process and send to you as soon as possible.
Australian Shipping Fees:
The standard shipping charge is a flat fee of $4.95
If your order totals to over $75, delivery is free!
Australian Delivery Time-Frames:
Estimated Delivery Times within Australia (Australia Post guidelines).
| | |
| --- | --- |
| Delivery within Sydney Metropolitan Area | Next working day |
| Delivery to Melbourne | 3-7 working days |
| Delivery to Queensland | 3-7 working days |
| Delivery to other capital cities | 3-7 working days |
| To other interstate locations | 3-7 working days |
Delivery times do not include handling time.
Shipping Company:
Upon receipt of your order, your order details will be electronically forwarded to our 3rd party fulfilment centre for picking, packing & dispatch. Orders placed with all stock ready to deliver will leave the fulfilment centre within 24 hours Monday-Friday (excludes public holidays). The fulfilment centre uses Australia Post and DHL to ship products to you and all orders come with tracking and signature on delivery. You cannot 'opt-out' of the signature on delivery requirement. Where the shipping address differs from the billing address, please ensure permission is obtained for the disclosure of personal information under the Privacy Act for third party recipients.
Payment:
We use PayPal, Stripe (powered by Shopify) and Afterpay as our payment gateways. When paying with PayPal, you can either pay with your credit card or if you have a PayPal account, log in and pay from your PayPal account. If you pay using Afterpay, the Afterpay prevailing terms and conditions apply. View Afterpay terms at http://www.afterpay.com.
You will receive a confirmation email from Unique Muscle confirming your payment is successful.
Ordering & Delivery:
1. Goods are packed in a safe manner to prevent damage during transport
2. Goods are delivered to all regions of Australia using various transport services as stated above.
3. Orders are dispatched from Sydney, Australia on business days only (Mon to Fri -excludes public holidays).
4. If an item is out of stock, and remains unavailable for 48 hours, we will contact you by email.
5. Unfortunately, you are unable to modify your order after it has been successfully received by us.
6. Unfortunately, we are unable to redirect parcels once they have left our fulfilment centre.
7. To assist us getting your order to you as quickly as possible, please include your phone number and a valid email address to help if we need to sort out any issues with your order.