or make 4 interest-free payments of $5.50 USD fortnightly with
More info
Gluten Free
Naturally Flavoured
Naturally Sweetened
No Preservatives
Non GMO
Vegan Friendly

Chai Protein is made using only a handful of high quality ingredients and is naturally sweetened. Once you try it, your body and taste buds will thank you for the guilt free delight!


Not only does Chai Protein taste like heaven, it's also the tastiest way to get more protein into your diet. Whether you need it to assist a healthy diet and exercise routine, or to satisfy your chai cravings without the sugary guilt, Chai Protein is your new best friend.
When and why should I consume Chai Protein?
Chai Protein can be consumed in more than one way for more than one reason! It's great to have after exercise / workout to tone and repair your body. If you are feeling hungry before bed you can have a Chai Protein shake to feed nutrients to your body while you sleep. Your body doesn't eat for hours while you sleep so by having Chai Protein before bed you are ensuring that your metabolism is switched on while you are sleeping. Chai Protein is also a yummy+healthy treat to have when you experience sugar cravings!
200g = 1 bag | 600g = 3 bags | 1kg = 5 bags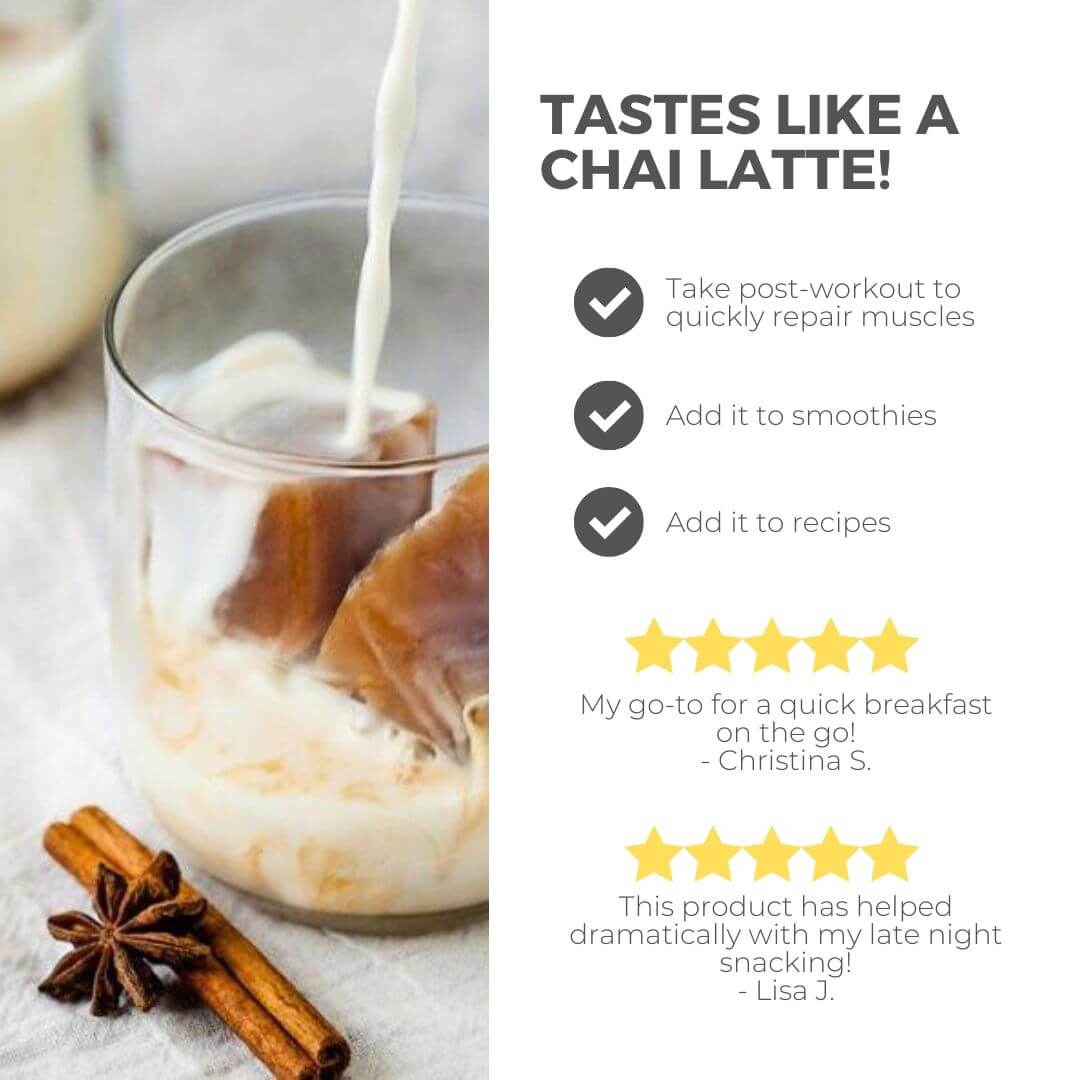 Directions for use:
Add 20g (approximately 3 rounded tablespoons) of Chai Protein with 220mls of low fat soy milk or milk substitute (bonsoy/almond/coconut/rice) into your shaker bottle and shake until dissolved. Sprinkle a little bit of cinnamon on top to be a little bit fancy! Consume immediately.
You can also make delicious Chai Protein creations such as healthy muffins, breads, cookies or ice cream (please see our Blog Page for recipe ideas).
Ingredients:
Soy Protein (Soy Isolate, Emulsifier (Soy Lecithin)), Sweetener (Erythritol, Steviol Glycosides), Natural Chai Flavour (Cinnamon, Clove, Nutmeg and Cardamom Extract), Celtic Sea Salt, Vegetable Gum (Xanthan Gum), Cinnamon. Contains Soy