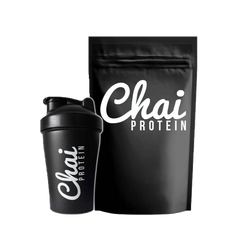 Vanilla Chai Protein + Shaker Pack

Gluten Free

Naturally Flavoured

Naturally Sweetened

No Preservatives

Non GMO

Vegan Friendly
This pack includes a 200g Vanilla Chai Protein + the classic Chai Protein shaker.
Chai Protein is made using only a handful of high quality ingredients and is naturally sweetened. Once you try it, your body and taste buds will thank you for the guilt free delight!
Not only does Chai Protein taste like heaven, it's also the tastiest way to get more protein into your diet. Whether you need it to assist a healthy diet and exercise routine, or to satisfy your chai cravings without the sugary guilt, Chai Protein is your new best friend.
----------
The Chai Protein Shaker is the perfect utensil to mix your delicious Chai Protein on the go. The sleek black design will not show internal stains from long use and the strong moulded design will help against the rough ride along in your gym bag and is completely leak proof. It also has an integrated groove design on both sides of the shaker for easy grip while you shake. It can fit into most if not all cup holders and includes a stainless steel blender ball that moves freely throughout the bottle as you shake it. It will mix the thickest of drinks with ease. Sealed Flip-Back & Lock Mouthpiece Cover.
----------
When and why should I consume Chai Protein?
Chai Protein can be consumed in more than one way for more than one reason! It's great to have after exercise / workout to tone and repair your body. If you are feeling hungry before bed you can have a Chai Protein shake to feed nutrients to your body while you sleep. Your body doesn't eat for hours while you sleep so by having Chai Protein before bed you are ensuring that your metabolism is switched on while you are sleeping. Chai Protein is also a yummy+healthy treat to have when you experience sugar cravings!




200g = 1 bag | 600g = 3 bags | 1kg = 5 bags
Ingredients:
Soy Protein (Soy Isolate, Emulsifier (Soy Lecithin)), Sweetener (Erythritol, Steviol Glycosides), Natural Chai Flavour (Cinnamon, Clove, Nutmeg and Cardamom Extract), Celtic Sea Salt, Vegetable Gum (Xanthan Gum), Cinnamon. Contains Soy
Shipping Policy
At Unique Muscle, we not only strive to supply the best products in the marketplace but we also strive to ensure that your order reaches you as quickly and efficiently as possible. Our easy online purchasing system ensures your order is delivered to us instantly so we can then process and send to you as soon as possible.
Australian Shipping Fees:
The standard shipping charge is a flat fee of $4.95
If your order totals to over $75, delivery is free!
Australian Delivery Time-Frames:
Estimated Delivery Times within Australia (Australia Post guidelines).
| | |
| --- | --- |
| Delivery within Sydney Metropolitan Area | Next working day |
| Delivery to Melbourne | 3-7 working days |
| Delivery to Queensland | 3-7 working days |
| Delivery to other capital cities | 3-7 working days |
| To other interstate locations | 3-7 working days |
Delivery times do not include handling time.
Shipping Company:
Upon receipt of your order, your order details will be electronically forwarded to our 3rd party fulfilment centre for picking, packing & dispatch. Orders placed with all stock ready to deliver will leave the fulfilment centre within 24 hours Monday-Friday (excludes public holidays). The fulfilment centre uses Australia Post and DHL to ship products to you and all orders come with tracking and signature on delivery. You cannot 'opt-out' of the signature on delivery requirement. Where the shipping address differs from the billing address, please ensure permission is obtained for the disclosure of personal information under the Privacy Act for third party recipients.
Payment:
We use PayPal, Stripe (powered by Shopify) and Afterpay as our payment gateways. When paying with PayPal, you can either pay with your credit card or if you have a PayPal account, log in and pay from your PayPal account. If you pay using Afterpay, the Afterpay prevailing terms and conditions apply. View Afterpay terms at http://www.afterpay.com.
You will receive a confirmation email from Unique Muscle confirming your payment is successful.
Ordering & Delivery:
1. Goods are packed in a safe manner to prevent damage during transport
2. Goods are delivered to all regions of Australia using various transport services as stated above.
3. Orders are dispatched from Sydney, Australia on business days only (Mon to Fri -excludes public holidays).
4. If an item is out of stock, and remains unavailable for 48 hours, we will contact you by email.
5. Unfortunately, you are unable to modify your order after it has been successfully received by us.
6. Unfortunately, we are unable to redirect parcels once they have left our fulfilment centre.
7. To assist us getting your order to you as quickly as possible, please include your phone number and a valid email address to help if we need to sort out any issues with your order.