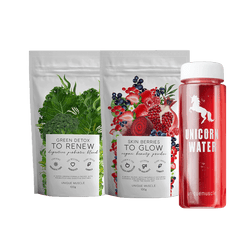 Unicorn Water Green Detox & Skin Berries Pack
Our GREEN DETOX + SKIN BERRIES combo is the perfect health and wellness pack to replenish, restore and rejuvenate. Offering both a vegan beauty powder that helps you glow and a digestive probiotic blend that helps you renew!

Gluten Free

Naturally Coloured

Naturally Flavoured

Naturally Sweetened

No Preservatives

Non GMO

Vegan Friendly
ABOUT THE UNICORN WATER GREEN DETOX & SKIN BERRIES PACK:
This pack comes with:
1 x 20 day pack of Green Detox, 1 x 20 day pack of Skin Berries & 1 x Clear Plastic Unicorn Water Bottle.
ABOUT THE GREEN DETOX & SKIN BERRIES PACK:
This pack comes with:
1 x 20 day pack of Green Detox & 1 x 20 day pack of Skin Berries
Please click the links above to find out full details about each product in this pack.
ABOUT GREEN DETOX TO RENEW:
YOUNG, WILD AND GREEN
We know that adulting is hard work and it's not always easy to eat well and be on top of your game to get an adequate amount of dark leady greens in your diet!
Fatigue, gut health issues, brain fog and weight gain are just a few of the negative effects of an unbalanced diet. Let's be real, when you feel bad, you tend to eat bad so you might find yourself reaching for junk foods which can lead to a build-up of acidity in the body - making it the perfect environment for fostering bacteria and inflammation!
The solution is simple: HAVE YO GREENS!
GREEN DETOX TO RENEW is our super healthy, super greens blend designed to have you feeling energised and revitalised, a brand new you! Our carefully crafted blend contains essential green vegetables, grasses and algae as well as the added benefits of pre and probiotics with digestive enzymes which assist to get your gut back in balance!
Simply drink it with water or add to your favourite shake or smoothie for an added gut-loving boost.
ABOUT SKIN BERRIES TO GLOW:
BE A GLOW-GETTER!
"I regret taking good care of my skin" said no one ever!
There is nothing worse than waking up to find a new pimple or wrinkle that a serum or mask just won't fix. A great skincare routine is not about what you put ON your skin but what you put IN your body.
SKIN BERRIES TO GLOW is a unique blend of skin loving berries with naturally occurring vitamins and minerals that will help you GLOW from the inside out!
With an intelligent selection of essential berries and fruits, our carefully crafted blend delivers antioxidant and anti-aging benefits.
SKIN BERRIES is also naturally high in vitamin C which is great for collagen production and selenium which is excellent for healthy hair and nails.
Simply drink it with water or add to your favourite shake or smoothie for an added beauty boost!
ABOUT THE UNICORN WATER BOTTLE:
This bottle is not available for purchase on its own and can only be bought in this pack! This 500ml size bpa-free plastic bottle with leak proof lid allows you to easily drink your GREEN DETOX and SKIN BERRIES on the go in style and with ease.
Still a little sceptical? Read the reviews from REAL and VERIFIED customers below!
DIRECTIONS FOR USE:
Mix 5 grams (2 level scoops) with 250ml of cold water and consume immediately.
It can also be added to your favourite LEAN UP shake or smoothie.
Seal immediately after use and store below 25ºC in a cool, dry place.

GREEN DETOX:
Green Blend (Kale Powder, Organic Alfalfa Powder, Organic Barley Grass Powder, Organic Spelt Grass Powder, Organic Wheatgrass Powder, Organic Spirulina Powder, Organic Chlorella Powder, Broccoli Powder, Dietary Fibre, Natural Flavour, Digestive Enzyme Blend, Sweetener, Probiotic - WE SOURCE THE BEST INGREDIENTS FROM AROUND THE WORLD!

SKIN BERRIES:
Berry Blend (Beetroot Powder, Raspberry Juice, Strawberry Juice, Pomegranate Juice, Elderberry Juice, Blackcurrant Juice, Blueberry Juice, Cranberry Juice, Acerola Cherry Powder, Acai Puree, Goji Juice), Acacia Gum, Natural Flavour, Malic Acid, Rice Hulls, Sweetener (Steviol Glycosides), Selenium-enriched Yeast - WE SOURCE THE BEST INGREDIENTS FROM AROUND THE WORLD!
Shipping Policy
At Unique Muscle, we strive not only to provide the best products on the market, but also to ensure that your order reaches you as quickly and efficiently as possible. Our simple online ordering system ensures that your order is sent to us instantly, allowing us to process and ship it to you as soon as possible.
Australian Shipping Fees:
The standard shipping charge is a flat fee of $4.95
If your order totals to over $75, delivery is free!
Australian Delivery Time-Frames:
Estimated Delivery Times within Australia (Australia Post guidelines).
| | |
| --- | --- |
| Delivery within Sydney Metropolitan Area | Next working day |
| Delivery to Melbourne | 3-7 working days |
| Delivery to Queensland | 3-7 working days |
| Delivery to other capital cities | 3-7 working days |
| To other interstate locations | 3-7 working days |
Delivery times do not include handling time.
Shipping Company:
Upon receipt of your order, your order details will be electronically forwarded to our 3rd party fulfilment centre for picking, packing & dispatch. Orders placed with all stock ready to deliver will leave the fulfilment centre within 24 hours Monday-Friday (excludes public holidays). The fulfilment centre uses Australia Post and DHL to ship products to you and all orders come with tracking and signature on delivery. You cannot 'opt-out' of the signature on delivery requirement. Where the shipping address differs from the billing address, please ensure permission is obtained for the disclosure of personal information under the Privacy Act for third party recipients.
Payment:
We use PayPal, Stripe (powered by Shopify), and a range of "buy now pay later" services such as Afterpay, Zip, Sezzle, Klarna and Laybuy for our payment gateway.
When paying with PayPal, you can either pay with your credit card or if you have a PayPal account, log in and pay from your PayPal account. You must pay for your products purchased on this website at the time of placing an order. To pay for products with PayPal, you will be transferred to an external site operated by PayPal. You agree that PayPal is responsible for processing and the security of your payment, and you hereby release Unique Muscle from any liability in relation to such payment. Please refer to PayPal's terms of use for conditions applying to payment processing services.
If you pay using a "buy now pay later" service, their prevailing terms and conditions apply. Please view their terms and conditions on their website before using them as a payment gateway on our website.
You will receive a confirmation email from Unique Muscle confirming your payment is successful.
Ordering & Delivery:
1. Goods are packed in a safe manner to prevent damage during transport
2. Goods are delivered to all regions of Australia using various transport services as stated above.
3. Orders are dispatched from Sydney, Australia on business days only (Mon to Fri -excludes public holidays).
4. If an item is out of stock, and remains unavailable (unless it was purchased on "pre order" status), we will contact you by email.
5. Unfortunately, you are unable to modify your order after it has been successfully received by us.
6. Unfortunately, we are unable to redirect parcels once they have left our fulfilment centre.
7. To assist us getting your order to you as quickly as possible, please include your phone number and a valid email address to help if we need to sort out any issues with your order.