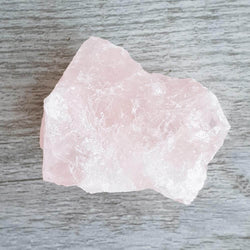 Rose Quartz Rough Crystal Stone
The Rose Quartz crystal is one of the most popular crystal healing tools and is used to enhance love and compassion for yourself, loved ones and all living things.
Unconditional Love + Compassion + Peace + Self Awareness
The Rose Quartz crystal is one of the most popular crystal healing tools and is used to enhance love and compassion for yourself, loved ones and all living things.
The emotional healing of Rose Quartz comes from allowing you to let go of toxic energies and emotions that have become trapped inside of you.
The Rose Quartz stone uses the energy of unconditional love to bring your consciousness to a higher level. Its high frequencies will help you forgive by understanding situations from more positive perspectives.
While focusing on your intention, place the Rose Quartz stone in the center (the heart) of your home, as well as having a Rose Quartz in your bedroom to welcome in romance, love and joy.
Feeling drawn to the Rose Quartz?
When you reach out for a Rose Quartz stone, chances are you may require some calmness, healing and forgiveness at this time in your life.
Our Rose Quartz stones range from 3-4 cms and their clarity and colour varies.
The stone is powerful, but it does need to be recharged regularly. Running water seems to cleanse the stone and moonlight is ideal for recharging the beautiful stone.
Shipping Policy
At Unique Muscle, we not only strive to supply the best products in the marketplace but we also strive to ensure that your order reaches you as quickly and efficiently as possible. Our easy online purchasing system ensures your order is delivered to us instantly so we can then process and send to you as soon as possible.
Australian Shipping Fees:
The standard shipping charge is a flat fee of $4.95
If your order totals to over $75, delivery is free!
Australian Delivery Time-Frames:
Estimated Delivery Times within Australia (Australia Post guidelines).
| | |
| --- | --- |
| Delivery within Sydney Metropolitan Area | Next working day |
| Delivery to Melbourne | 3-7 working days |
| Delivery to Queensland | 3-7 working days |
| Delivery to other capital cities | 3-7 working days |
| To other interstate locations | 3-7 working days |
Delivery times do not include handling time.
Shipping Company:
Upon receipt of your order, your order details will be electronically forwarded to our 3rd party fulfilment centre for picking, packing & dispatch. Orders placed with all stock ready to deliver will leave the fulfilment centre within 24 hours Monday-Friday (excludes public holidays). The fulfilment centre uses Australia Post and DHL to ship products to you and all orders come with tracking and signature on delivery. You cannot 'opt-out' of the signature on delivery requirement. Where the shipping address differs from the billing address, please ensure permission is obtained for the disclosure of personal information under the Privacy Act for third party recipients.
Payment:
We use PayPal, Stripe (powered by Shopify) and Afterpay as our payment gateways. When paying with PayPal, you can either pay with your credit card or if you have a PayPal account, log in and pay from your PayPal account. If you pay using Afterpay, the Afterpay prevailing terms and conditions apply. View Afterpay terms at http://www.afterpay.com.
You will receive a confirmation email from Unique Muscle confirming your payment is successful.
Ordering & Delivery:
1. Goods are packed in a safe manner to prevent damage during transport
2. Goods are delivered to all regions of Australia using various transport services as stated above.
3. Orders are dispatched from Sydney, Australia on business days only (Mon to Fri -excludes public holidays).
4. If an item is out of stock, and remains unavailable for 48 hours, we will contact you by email.
5. Unfortunately, you are unable to modify your order after it has been successfully received by us.
6. Unfortunately, we are unable to redirect parcels once they have left our fulfilment centre.
7. To assist us getting your order to you as quickly as possible, please include your phone number and a valid email address to help if we need to sort out any issues with your order.