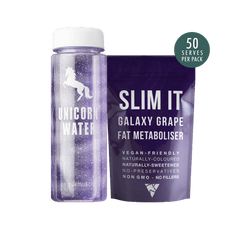 SLIM IT GALAXY GRAPE - FAT METABOLISER
We don't sweat, we sparkle SPARKLE from the inside out with our NEW LIMITED EDITION Galaxy Grape Slim It!

Tastes delicious, keeps you hydrated, helps you to achieve your health and fitness goals and most importantly, it's UNBELIEVABLY SPARKLY!

Gluten Free

Naturally Coloured

Naturally Flavoured

Naturally Sweetened

No Preservatives

Non GMO

Vegan Friendly
Sometimes you stumble upon a product that claims to help you shift excess body weight safely, drink more water and give you more energy and you think "um, yeah right"
We knew when we first created SLIM IT that it would take a brave few to trust us enough to try it and report back to the others that we're in fact legit. We've since received over 9000 real + verified reviews! – and that's just the people who were so happy that they had to write a review!
We've helped thousands of women get amazing results with SLIM IT so whether you're a believer from the get-go or part of the sceptic's crew, we're confident that SLIM IT won't let you down.
So, what's it taste like?
ALC (the main ingredient in SLIM IT) usually tastes like vinegar! However, our super talented team have formulated the BEST tasting ALC based product on the market! Seriously! You won't taste even the tiniest bit of vinegar in our SLIM IT. It's naturally flavoured, sweetened and coloured with ingredients like beetroot and cranberry so you can get all the benefits of ALC and actually look FORWARD to drinking it every day!
Available in six yummy flavours; Watermelon, Green Apple, Passionfruit, Strawberry, Bubblegum and Peach Iced Tea.
What SLIM IT may do for you (yes, we must say "may" because we would be highly sceptical of anyone who will guarantee you results without knowing your exact personal circumstances in extreme detail!):
Burn fat in the most stubborn areas of your body by metabolising fat (if you don't want it, let's get rid of it!) 💪
Use stored fat as energy (without stimulants! So you won't get that gross jittery feeling either!) 🏋️‍♀️
Fight brain fog (goodbye 3pm crash!) 🧠
Get hydrated (because seriously who doesn't need to drink more water?!) 💦
Assist with guarding your cells from the effects of ageing (nothing wrong with feeling like a spring chicken!)🐥
Improve memory, learning capacity and improve visual function (the better your memory, the more arguments you can win)💁‍♀️
…seriously, what CAN'T SLIM IT do?!
So what's in it that makes SLIM IT work so well?
The star ingredient inside SLIM IT is called acetyl-l-carnitine, or ALC for short. ALC is an amino acid naturally produced in your body to generate energy. ALC plays an important role in energy production. It transports long-chain fatty acids into the mitochondria so they can be burned to produce energy - so basically you need ALC in order to metabolise fat in your body!
ALC has two main benefits:
Enhances your brain power: many people use ALC as a nootropic supplement as the fact that it is 'acetyl' helps it pass the blood brain barrier and reach the brain and nerves where it improves your mood, learning and memory.
Helps to burn fat by transporting fatty acids in your body to your muscle mitochondria which in turn increases your energy production and pushes your metabolism toward fat burning during a workout. It can also speed up your recovery process after your workout.
Formulated Supplementary Sports Foods. Not used as a sole source of nutrition. Consumed as part of a nutritious diet and exercise program. Not suitable for children under 15 years of age or pregnant women. Should only be used under medical or dietetic supervision.
Still a little sceptical? Read the reviews from REAL and VERIFIED customers below!
DIRECTIONS FOR USE:
Mix 1 - 2 grams (1/4 or 1/2 teaspoon) with 250ml - 800ml of water
Take first thing in the morning and/or before a workout to increase fat burning capacity and energy.
Maximum 2g serve per day
This product is very hygroscopic which means it is prone to moisture migration and clumping. Seal immediately after use and store below 30ºC in a cool, dry place.
This product is sold by weight, contents may settle.

SLIM IT Galaxy Grape Ingredients:
Acetyl-L-Carnitine, Natural Flavour, Sweetener (Erythritol, Steviol Glycosides), Natural Colour (Beet Red), Colour (Titanium Dioxide) Gardenia Blue Extract - WE SOURCE THE BEST INGREDIENTS FROM AROUND THE WORLD!
Slim It's its main ingredient is Acetyl-L-Carnitine and adding this to your daily water is a great idea from Unique Muscle. As a clinical Nutritionist I see so many clients struggling to drink their recommended 2 Litres of water a day. What's so good about Acetyl-L-Carnitine? It helps to improve physical functions, improves energy, it may improve mental function and it's leading benefit is that it helps the muscle mitochondria burn fat. I love the fact that the flavouring in Green Apple is turmeric and Spirulina. Turmeric is thought to have anti-inflammatory benefits which are a great idea for sore muscles and a great way to add Spirulina to the diet. A lot of vegans have Spirulina to help with increasing iron levels.

- Andrea Eastley is a Clinical Nutritionist, Clinical Naturopath and Western Herbal practitioner
Shipping Policy
At Unique Muscle, we not only strive to supply the best products in the marketplace but we also strive to ensure that your order reaches you as quickly and efficiently as possible. Our easy online purchasing system ensures your order is delivered to us instantly so we can then process and send to you as soon as possible.
Australian Shipping Fees:
The standard shipping charge is a flat fee of $4.95
If your order totals to over $75, delivery is free!
Australian Delivery Time-Frames:
Estimated Delivery Times within Australia (Australia Post guidelines).
| | |
| --- | --- |
| Delivery within Sydney Metropolitan Area | Next working day |
| Delivery to Melbourne | 3-7 working days |
| Delivery to Queensland | 3-7 working days |
| Delivery to other capital cities | 3-7 working days |
| To other interstate locations | 3-7 working days |
Delivery times do not include handling time.
Shipping Company:
Upon receipt of your order, your order details will be electronically forwarded to our 3rd party fulfilment centre for picking, packing & dispatch. Orders placed with all stock ready to deliver will leave the fulfilment centre within 24 hours Monday-Friday (excludes public holidays). The fulfilment centre uses Australia Post and DHL to ship products to you and all orders come with tracking and signature on delivery. You cannot 'opt-out' of the signature on delivery requirement. Where the shipping address differs from the billing address, please ensure permission is obtained for the disclosure of personal information under the Privacy Act for third party recipients.
Payment:
We use PayPal, Stripe (powered by Shopify) and Afterpay as our payment gateways. When paying with PayPal, you can either pay with your credit card or if you have a PayPal account, log in and pay from your PayPal account. If you pay using Afterpay, the Afterpay prevailing terms and conditions apply. View Afterpay terms at http://www.afterpay.com.
You will receive a confirmation email from Unique Muscle confirming your payment is successful.
Ordering & Delivery:
1. Goods are packed in a safe manner to prevent damage during transport
2. Goods are delivered to all regions of Australia using various transport services as stated above.
3. Orders are dispatched from Sydney, Australia on business days only (Mon to Fri -excludes public holidays).
4. If an item is out of stock, and remains unavailable for 48 hours, we will contact you by email.
5. Unfortunately, you are unable to modify your order after it has been successfully received by us.
6. Unfortunately, we are unable to redirect parcels once they have left our fulfilment centre.
7. To assist us getting your order to you as quickly as possible, please include your phone number and a valid email address to help if we need to sort out any issues with your order.